About Us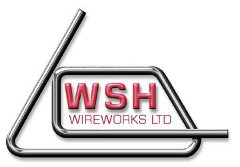 WSH Wireworks Ltd are established designers, manufacturers and suppliers of bespoke retail display stands, wire baskets, wire racks and other made-to-order products from wire, sheet metal and tubing, for nearly 40 years - supplying leading UK brands in small to large shops and restaurants with production quantities.
Our order fulfilment process:
From your individual brief, our experienced team will work with you to design a bespoke product to offer a full colour visual and quotation
On approval of our visual and quotation we can then proceed with making a sample
With the design and price finalised the next step will be the production run
Design
• Innovative design ideas
• Maximise area of display available
• Sketches and prototypes will clarify specification
• Able to work with your current designs
• Well equipped toolroom
Manufacture
• Working with wire, tubing and sheetmetal
• CO2, CNC and resistance welding
• Electrostatic epoxy powder spray apparatus
• Rotary polythene coating plant
• Partnerships available with companies to offer all other finishes
• 100% final quality check
• Individual packing units in cartons and/or bulk placing onto pallets
• Delivery of products to final destination will be arranged
There are no articles in this category. If subcategories display on this page, they may contain articles.